A Group for Anglers with Disabilities
Mission Statement
To provide recreational fishing opportunities for all anglers with disabilities regardless of their age, race, gender, or disability.
To create public awareness of the problems facing persons with disabilities and the shortfall of recreational opportunities.
To be a resource for information on adapted fishing equipment and accessibility.
To promote research & development of specialized adapted equipment and gear to enhance fishing experiences for anglers with disabilities.
To help fulfill the needs of participants for independence, positive self image, and a genuine feeling of accomplishment.
To enhance the lives of participants with camaraderie and lasting friendships through FHNB events across the country.
To provide information to any person with interest in setting up a new chapter or fishing event for anglers with disabilities.
To promote the need for recreation for persons with disabilities in a positive way.
To educate the public regarding the good Fishing Has No Boundaries®, Inc. is doing through pictures, press, and word of mouth.
To have the best angling events (not tournaments) for any person with any type of disability. In this way, all persons with disabilities are able to experience improved health, self esteem, confidence, and independence.
FHNB is a 501 ( C ) ( 3 ) non-profit National Volunteer Organization
History
I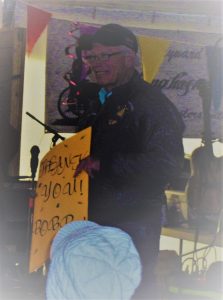 n 1986, a local Hayward fishing guide, Bobby Cammack, founded Fishing Has No Boundaries®, Inc. after breaking his leg. Bobby still wanted to continue to fish (a special passion of his) and enjoy the beautiful area lakes. With a simple cast on his leg, however, fishing was not as easy now as it was previously.
With years of research, planning, and perseverance, the first FHNB event was held in 1988 on the Chippewa Flowage in Hayward, Wisconsin for all persons with disabilities regardless of age, race, gender, and especially severity of disability. This new-found opportunity gathered 75 people from seven different states.
By the year 2002, FHNB, Inc. has had over 8,000 participants at various events, and double that amount of volunteers. In 2007, FHNB, Inc. grew to 23 chapters in 11 different states, with many more in the initial planning stages for 2008 and beyond. FHNB, Inc. is proud of all of our many volunteers that have supported FHNB in every aspect deemed possible. FHNB, Inc. is proud to say that we have more than 1,875 participants with disabilities attending at least one FHNB chapter event each year – thanks to over 6,850 volunteers helping along the way.
At the day's close of a well planned event, you can rest assured that new plans are already underway for an even larger event for the following year. No matter where one chooses to attend as a volunteer, sponsor, or participant, you are certain of a whopping angling good time with memories etched into one's heart and mind forever. Dreams of leaving the shore and accessing the lakes become reality – and not just for the able bodied individual anymore.
Through adaptive angling equipment such as pole holders, different kinds of electric reels – joy stick or chin operating – ramp systems to gain access to boats, wider pontoon boat doorways, reel grippers, and many other modified angling tools, FHNB has brought two very different worlds together: fishing and people with different abilities.
A Fishing Has No Boundaries®, Inc. event is truly an unforgettable way to spend a weekend on or near the lakeshore with a new friend, relative, neighbor, co-worker, or a much anticipated comrade in the thrill of catching that "big one" – no matter the size.